The Comfospine™ Orthopaedic Knee Pillow with Strap is the world's most advanced orthopaedic Memory Foam leg cushion that provides side sleepers comfort for their lower back, hips, legs and spine. This ergonomically designed leg pillow aligns your spine along with your hips and knees, stabilizing your posture while sleeping. Its Heart Shaped form perfectly fits your legs helping you alleviate pressure points that often cause discomfort & pain.  The new composite of 3rd Gen. Memory Foam makes the perfect combination allowing the pillow to adapt to any type of body, weight and position.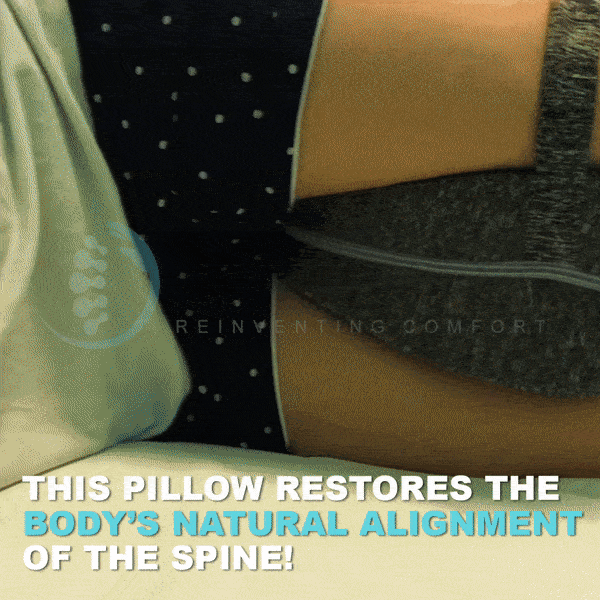 It helps you to adjust your posture to restore the spine's normal curves contributing to the perfect functioning of your body. The Comfospine™ Orthopaedic Knee Pillow with Strap is specifically recommended for:
Scoliosis
Herniated cervical & dorsal disk.
Pinched nerve (Cervical Radiculopathy)
Sciatica, low back pain, hip deviation or hip problems.
Post surgical
Arthrosis and arthritis.
Osteoarthritis
Cervical Spondylosis
Spinal Stenosis
Neck Strain and cervical problems.
Neck injury
Migraines, myalgia and headaches.
Fibromyalgia Syndrome (FMS)
Pregnancy
Poor Posture
Athletes (professionals and amateur)
Muscle or ligament strain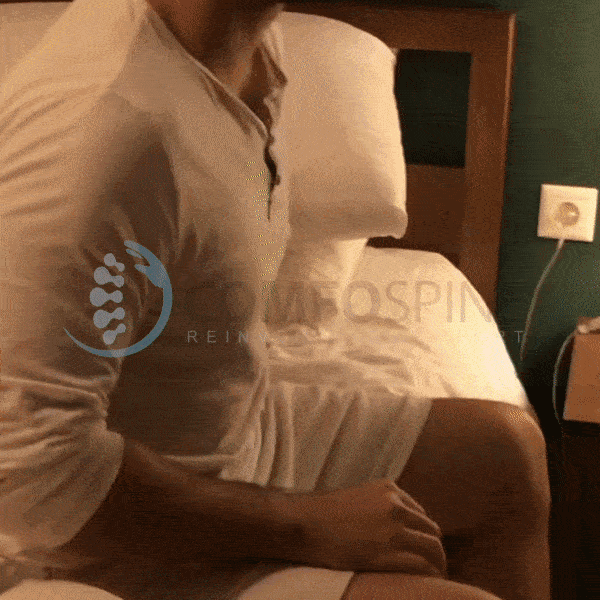 Comfospine™ Orthopaedic Knee pillow with Strap and with the latest combination of 3rd Generation Memory Foam (latex free)
Hypoallergenic and Maximum transpiration during resting time in order to be able to use it comfortable during all year.
The new removable machine washable cover is made from 65% Polyester, 35% Bamboo Fiber.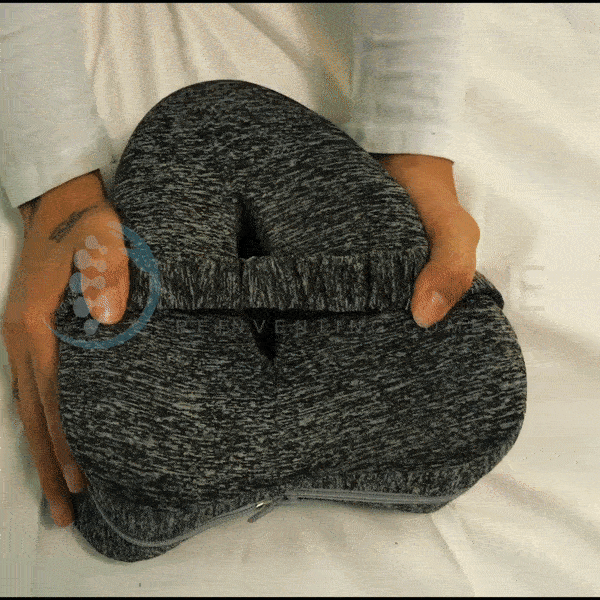 Helps ease pain points in back, hips & knees.
The Heart shaped ergonomic design stabilizes pelvis & lower back
The smooth and rounded edges help the pillow to move with you at night. 

It helps to the decompress the vertebrae of the spine, including the sacral bone.
It contributes to your knees & legs resting after arthrosis and arthritis issues
It helps easing the pain from hip deviation issues
Increase recovery from hip surgery, thus relieving the pressure on it when the Comfospine™ is placed between the legs.
It's helpful for contractures, pain points in cervical vertebrae and back.
If you suffer from neck straightening, Comfospine™ pillow will help you release the pressure from the cervical vertebrae.
Release back and hip pressure during pregnancy by using the Comfospine™ between your legs or knees.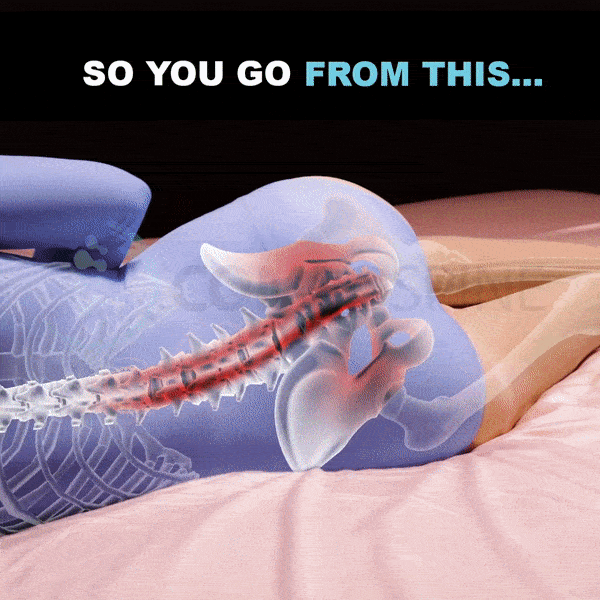 We exhibit our technology and solutions at a great variety of fairs and 
healthy lifestyle and/or medical related
conferences in countries all over the world. Please check out on the single events for more detailed information.
OUR GUARANTEE
At Comfospine we take great pride in providing you with the highest quality memory foam pillows in the market. Every one of our pillows that leaves our facilities has to first pass through the strictest quality control guidelines before being shipped to you. We value you as a customer and are so sure that you will love our Memory Foam Orthopaedic Knee Pillow with Strap that we include a 100% Quality Satisfaction Guarantee with every single pillow that we sell. If for any reason you are not completely satisfied with any one of our products due to quality we will refund it to you with no questions asked.